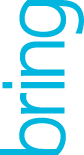 Jan Gulley Gerdin energizes project experiences by jump-starting the process, synthesizing and organizing information, and driving strategy. She designs informational and esthetic solutions to business problems. Jan provides interchange between clients and creative development. For more than 20 years, she has crafted communications solutions for corporations, schools, foundations and museums like Allstate, Boeing, Cantigny, Chicago Botanic Garden, Chicago Public Schools, the Freedom Museum, McCormick Foundation, The PrivateBank, Shedd Aquarium, Sears and U.S. Cellular.
Before founding Bring, Jan was a principal at Meta4 Design, Inc., driving creative direction and managing complex programs. Prior to Meta4, Jan founded Jan Gulley Design; and began her career at Crosby Associates, Inc.
Jan graduated from University of Illinois, earning a BFA in Graphic Design, and attended the School of the Art Institute of Chicago for painting. Her design work has earned recognition from Graphis, Communication Arts, the Triad, ARC and LACP award competitions. Jan is a member of the AIGA.
Jef Heidekat provides strategy and creative direction, as well as award-winning design. He is a liaison between client objectives and creative execution, and leads collaborative efforts between Bring and client teams. His career has included long-term relationships with Fortune 100 corporations and major cultural institutions, including Boeing, The Robert R. McCormick Foundation, River Branch Holdings, PepsiCo, The PrivateBank, RR Donnelley, Sara Lee, Sears, Shedd Aquarium and Tenneco, among others.
Prior to founding Bring, Jef was a founding principal at Meta4 Design, Inc., where he led creative strategy, messaging and visual execution for 20 years. Prior to Meta4, he was Vice President at Robertz, Webb and Company.
Jef graduated from Carnegie Mellon University with a BFA in Graphic Design. His work has earned accolades from Graphis, Print and Communication Arts magazines, as well as the Triad, ARC, Nicholson and LACP Awards. Jef is a member of the AIGA.